Product Description
TOSLON TF640 is first All-in-One universal colour display fish/feature finder & GPS for bait boats.
Toslon TF640 – 2.4Ghz Wireless Fish Finder, 300m Range (Guaranteed), 500 GPS Spots, Compass Navigation, 12 Months warranty.
The GPS system let you guiding the boat to any spot you saved.
Digital fish finder feature will show you actual bottom structure, difference between soft and hard bottom. It is a clear spot or is full with weed.
Compass Navigation will indicate instant boat heading direction on screen, also distance to saved spot. That give you opportunity to use bait boat at heavy fog and at night without lights.
Bait Boat Main Battery control on display of fish finder – (You always can check the voltage of your bait boat battery)
20 RF Channels – no Interference with other TF640 when is used at same lake, same time.
GPS Position Accuracy: 1m(filed test); RC Distance:300m; 500 Waypoint; Digital Wireless Sonar with 80ft depth range; Sonar frequency 455kHz; 4.3″ TFT with resolution 480*272 Pixels; 65,536 colour


GPS and RF
GPS Position Accuracy
CEP(circular error probability): 2.5m
Field test position accuracy: 1m
Waypoint storage
500
Route
10
Radio frequency
2.4GhHz
RF Range
300m(1000ft)
RF channels
20
Speed of boat
yes
Longitude and latitude
yes
Satellite
50 Channel
Update rate: 1 second
Hot start<1 second(open sky)
Cold start<48 second(open sky)
Sonar
Sonar frequency
455kHz (Optional 200kHz)
Depth capability
80ft (130ft under 200kHz)
Sonar coverage
35degree (19degree under 200kHz)
Compass
(TF640 Only)
Compass built in GPS receiver
yes
Compass built in display
yes
compass calibration function
yes
Power
Power supply of display
6~12v lithium battery or 8*AA battery
Power supply of controlling box
Powered by bait boat battery
DC 6~12v / 2.0w (lithium battery or 8*AA battery)
Display
Display Size
4.3″TFT LCD; Sunlight Viewable
Resolution
480*272Pixels; 65,536 color
Multi-language
Yes
Technical and casing
Sonar unit size
153 x110 x 44mm
Portable case size
262 x 150 x 98mm
GPS receiver cable length
1.0m
Transducer cable length
0.5m
Operational temperature
-10°C ~ 50°C
Packing
4.3″ TFT Display
GPS receiver
Transmitter box
Transducer
Antennas

SPECIFICATIONS
Accessories Available:
Tri-pod Priced at £34.99 (See other items) 
The higher your sounder the better signal strength you'll receive. Quality & Wireless Distance.
Easy to use.
Comes complete with bag and in a box.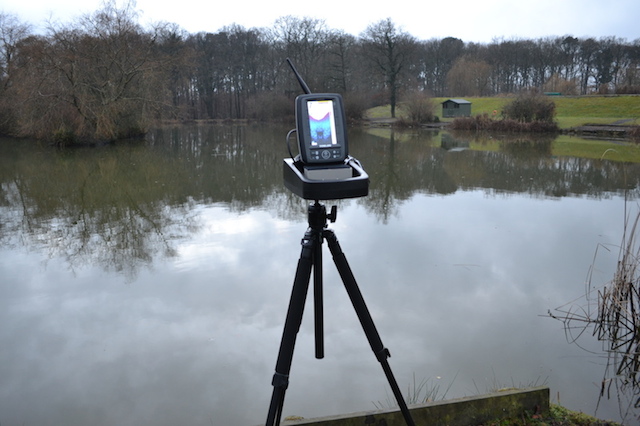 External Battery Kit:
Priced at £29.99 (See other items)